Firefighter injured by responding to call | News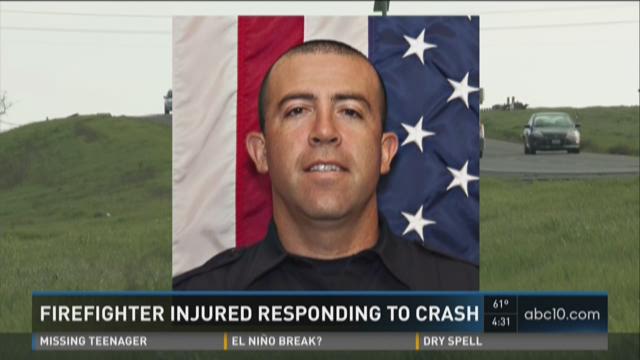 Firefighter/paramedic Eric Oviedo is recovering in the hospital after a car hit him on the side of the road on I-5.
He was responding to an accident after a woman hit a tree when Ford Econoline Van rear ended a Honda Civic, according to the Cosumnes Fire Department. The Honda lost control and hit Oviedo throwing him several feet.
"They were 50 to 60 feet off the roadway," Tracey Hansen, Cosumnes Fire Chief, said. "Once that vehicle left the roadway and started sliding on wet green grass it came through the incident scene very very quickly."
Oviedo has fractured ribs and a head injury. His colleagues say he's lucky to be alive.... 
"He's pretty banged up and bruised but I was able to speak to him this morning and he was in good spirits," Hansen said. "We're incredibly grateful."
Everyone else on the scene was unharmed. The CHP is looking into what caused the van to hit the Honda.
"As the investigation proceeds we will see if any prosecution is possible with the party that caused the collision," Michael Bradley, with California Highway Patrol, said.
As firefighters and officers are reminded of the risks they face when assisting people on the side of the road.
One of those dangers is distracted drivers.
"Whether you're on your phone, reaching for some coffee, or whatever it may be, that increases our chance of being struck on the side of the roadway," Bradley said. 
Top Midtown / Downtown / Old Sac / N. Sac Stories